A while back I tried fermenting blueberries with a salt solution. While it worked and the blueberries were fermented and were able to sit in the fridge for several weeks, it wasn't my husband's favourite. He could never really get rid of the salty flavour of the brine.
I was determined to make this work. My husband loves blueberries, but he eats them slowly, so they're at risk of going bad before he finishes them. Plus, when they're on sale it's always tempting to buy extra and save some money.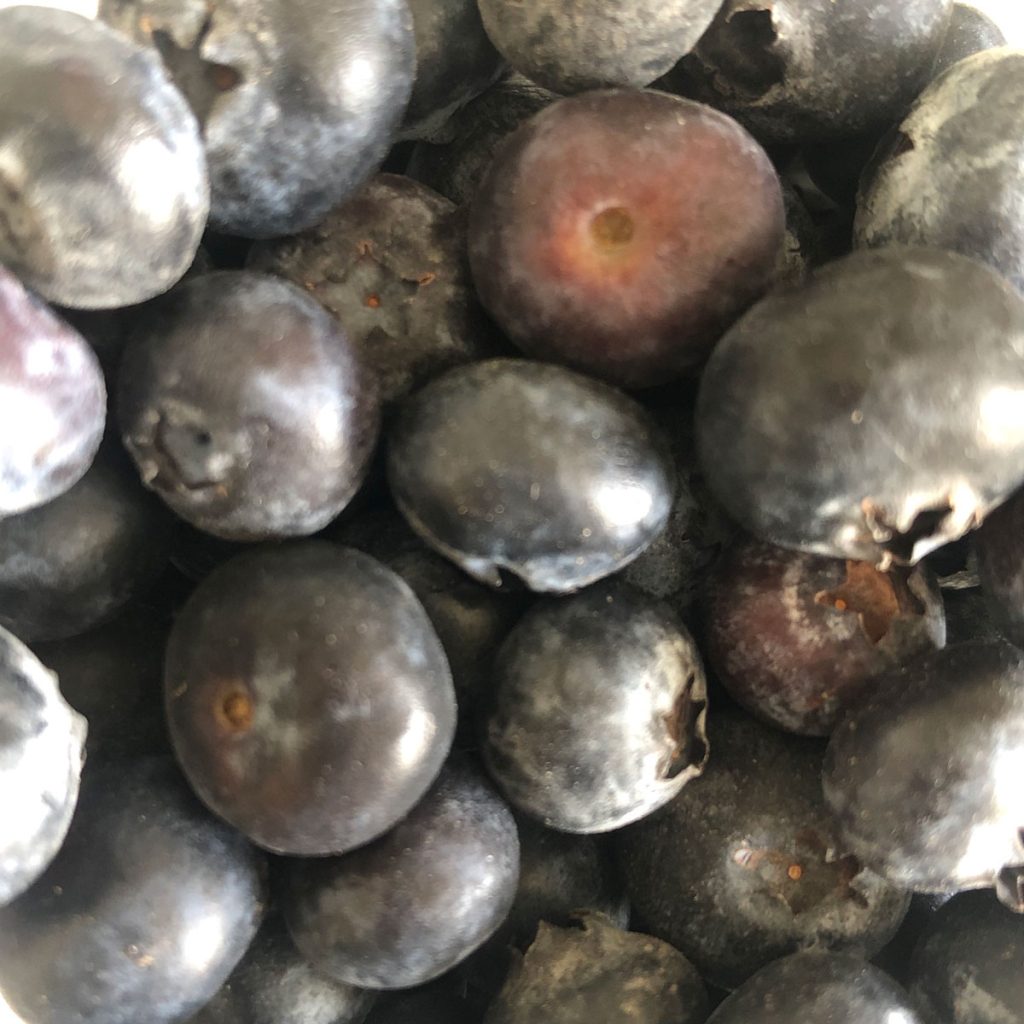 Thankfully while researching salt fermentation, I'd also come across a sugar fermentation method that used sugar and kombucha. Since we brew our own kombucha (and that'll eventually get posted on this site), this seemed like an easy one worth trying.
As long as you have kombucha, this one is easy and simple to put together. If you're buying your kombucha in the store, you'll want to make sure it's pretty fresh bottle so that you can be reasonably sure that the beneficial bacteria is all still alive. You'll want unflavoured / plain kombucha so that you don't end up flavouring the blueberries with whatever flavour you purchased (though that might be an experiment worth trying someday—I bet ginger kombucha would make lightly gingered blueberries). If you're home-brewing your kombucha, I scooped some out for this recipe right before adding the fruit into the kombucha.
The one piece of equipment you'll need is a fermentation kit. Here's the one I have. (I can't find it on Amazon, but if you're in Canada, I got it from Canadian Tire. Alternatively, here's a more expensive kit from the same company available on Amazon, though it looks like it's several lids and weights but you provide your own jar.) However, this is also optional—you can just use a large, clean jar, and when it comes to the step where you need the fermentation weight, you can use a Ziplock bag full of water.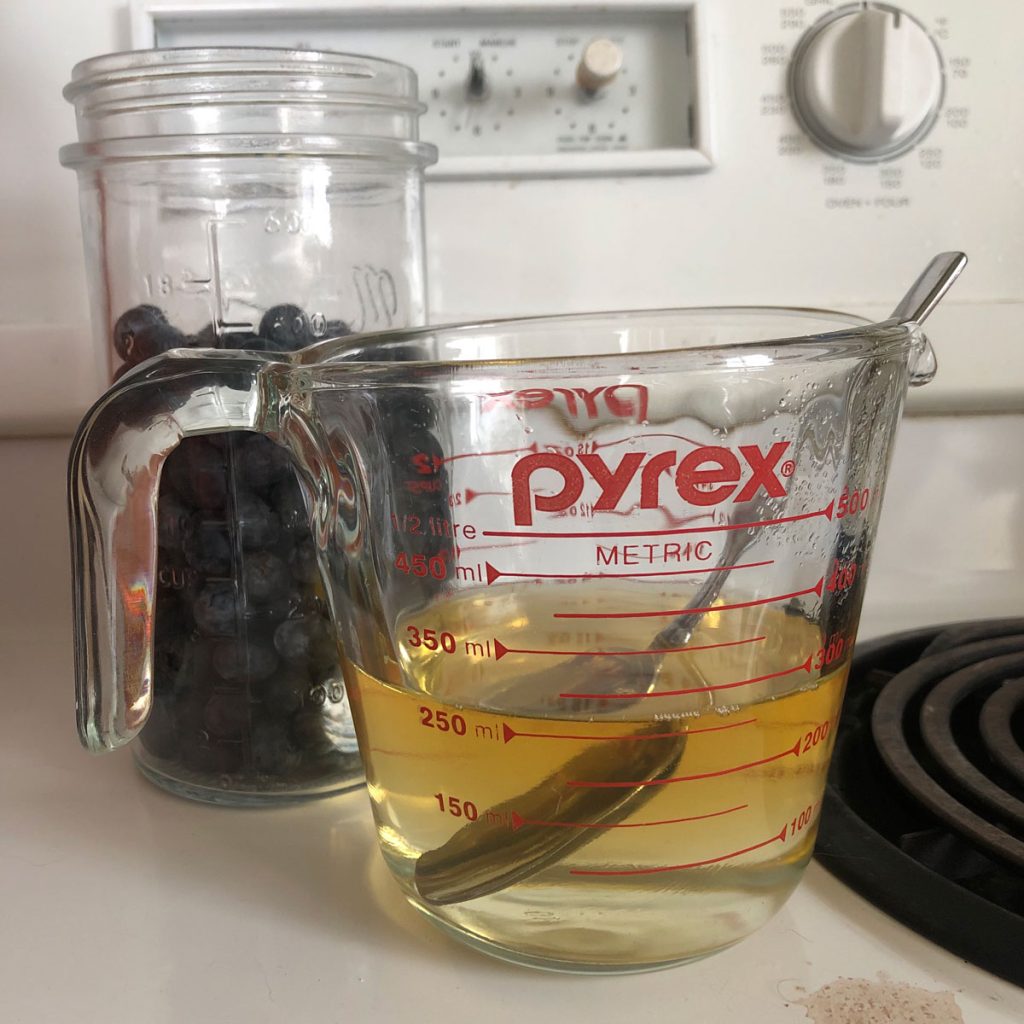 This recipe really couldn't be simpler, provided you have the ingredients and fermentation kit.
In a bowl or large glass, store together kombucha, salt, sugar, and water until everything is dissolved and nicely mixed. Then rinse or wash the blueberries to ensure they're clean, then put them into the fermentation jar. Pour the kombucha/sugar solution on top, close the lid, and let it sit on your counter.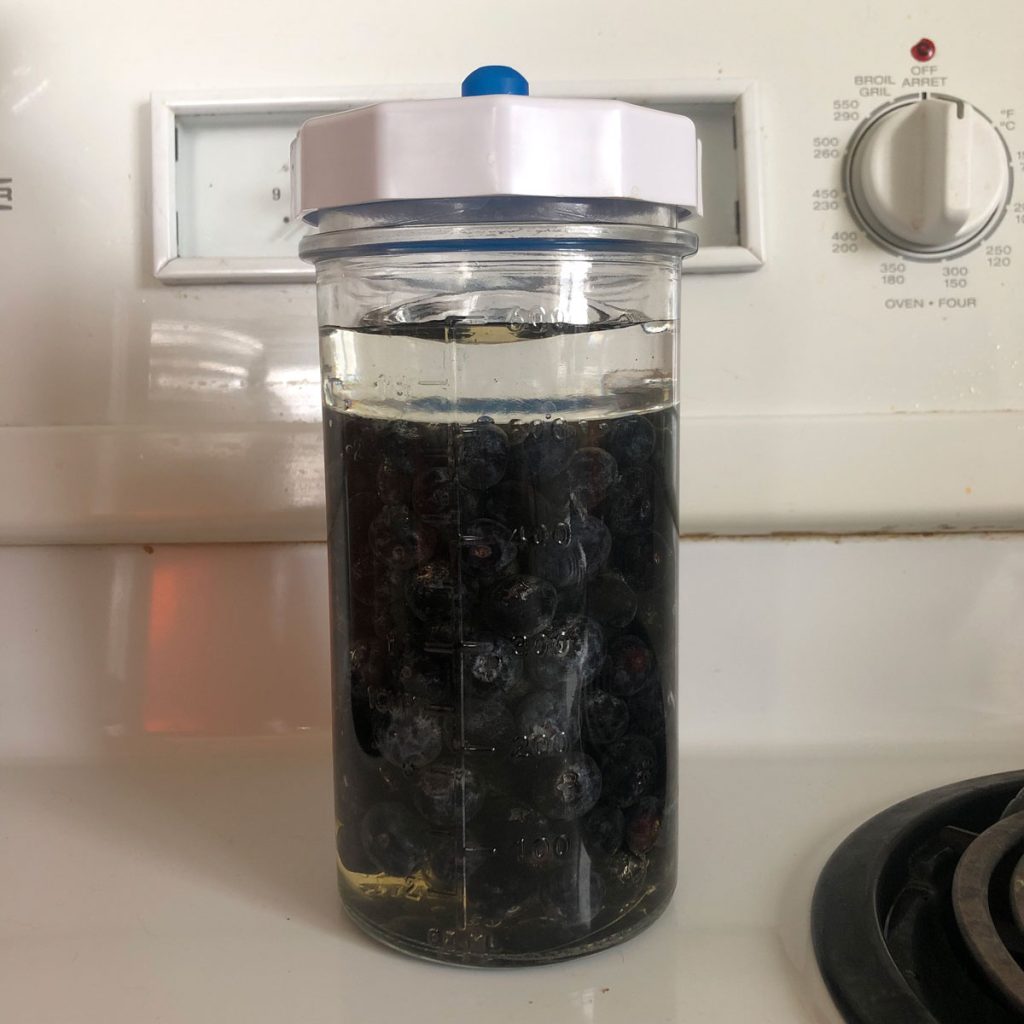 After a full 24 hours, taste test it daily until you reach a desired doneness.
In everything I've read about this, similarly to when I tried the salt fermentation, there's never a definition of what doneness is and how to tell if it's ready. So… my recommendation is to just wing it. With a full 24 hours on the counter, the beneficial bacteria and yeast from the kombucha will have fully established itself in your jar of blueberries, so you'll have some of that preservation effect even if you call it done too early. At a worst case scenario, if you call it done way too early, the blueberries might go mouldy like they normally would, so next time you just let it ferment a little longer.
For us, it took about three days till my husband felt they were fermented enough and ready to go.
I transferred the blueberries and brine to a new jar and put it in the fridge. Even if you didn't let it fully ferment before putting it in the fridge, that fermentation action will continue to happen, just at a much slower pace due to the cold of the fridge.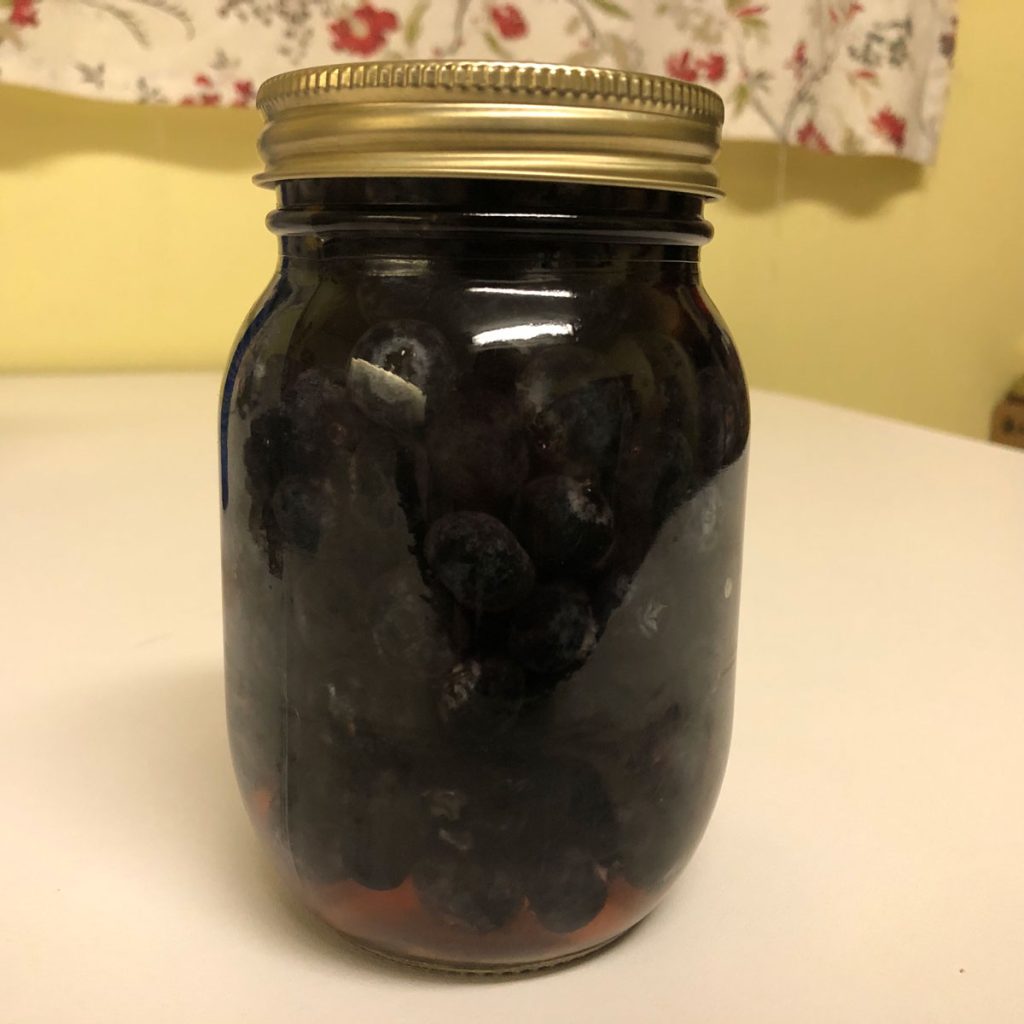 I think it's been about three times now that my husband has said to me "That new way of fermenting blueberries is really good." To me, that's the mark of success.
For longevity of the blueberries… I don't really know yet how long they last. The jar pictured here is still in our fridge (though much emptier now) and it's been a full month, and the blueberries are still tasty and delicious.
Kombucha eventually turns vinegary, so if left a really long time, these might taste a bit pickled. If you reach that point, it'd probably be best to throw them out and start a new batch.
My husband eats these straight out of the jar with a spoon—they're that good—but this is also an excellent way to preserve blueberries for smoothies or to toss on top of ice cream.
I'm tempted to try this same preservation method with Saskatoons (sometimes known as serviceberries). We've got a bush in our front yard and last year got quite the harvest. They're similar in size to blueberries, though I think with less moisture content. If I do try it and if it's a success, then stay tuned for the recipe!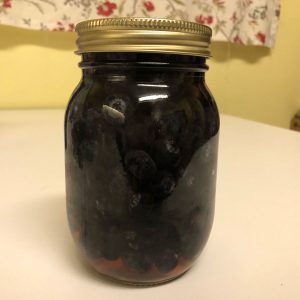 Sugar-Brine Fermented Blueberries
With sugar, kombucha, and a few other ingredients, blueberries can be easily fermented and last for weeks in the fridge.
Equipment
1 Fermenting Jar or Fermenting Kit

See notes for alternatives
Ingredients
2

cups

Blueberries

6

Tbsp

Kombucha, unflavoured

¾

tsp

Salt

6

Tbsp

Sugar

9

Tbsp

Water
Instructions
Mix all ingredients except for the blueberries.

Clean blueberries and then put them in the fermentation jar.

Pour the kombucha-sugar mixture on top.

Put the fermentation weight on top of the blueberries.

After twenty-four hours, taste-test daily until desired doneness. For us, we determined this was after three days, but the length of time will vary based on the temperature in your kitchen and various other factors.

Transfer to a clean jar and store in the fridge.

I'm not sure of the shelf life, but the jar in our fridge has been there a month and they're still good.
Notes
A fermentation kit usually has a jar, a weight, and an airlock. This is the one I have and it worked perfectly for this. (I can't find it on Amazon, but if you're in Canada, I got it at Canadian Tire. Alternatively, here's a more expensive and more complete kit from the same company available on Amazon, though it looks like it's several lids and weights but you provide your own jar.) If you don't have a fermentation kit, you can use any jar that's big enough to hold all of this, and then use a Ziplock bag filled with water as a weight. You might get scum forming on the bag and that's okay.